5
THE BELL TOWER
PETIT OG FRITSEN, HOLLAND

ERECTED 1982

Where Søndergade and Nygade meet.
The tower was drawn by Karsten Rønnow and built by Jermin Larsen, Odense. It is a Dutch invention, which was donated by the present Lollands Bank. There are 18 bells whose weight makes a total of 540 kilos.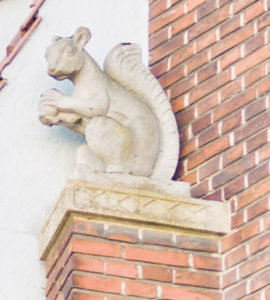 QUESTION: The squirrel is known as an industrious animal, always busy collecting food supplies for rougher times. On the small bell tower square there is a squirrel carved in granite. Can you detect the squirrel?